Canva Website Builder: Is This The Future of Website Design?
In September 2022, Canva, a well-known graphic design platform, introduced the latest addition to its design suite: Canva websites. It promised to provide users the ability to create beautiful, responsive, and interactive websites for any device. As of now Canva can only be used to make simple one pager websites. How does Canva compare to other established website platforms, such as Wix, Weebly, Shopify, Squarespace and WordPress? In this article, we will take explore Canva's website builder and evaluate it based on several criteria. We will explore its structure and layout, design capabilities, navigation, and cost. By the end of this article, you'll have a clear understanding of whether Canva is the right tool for you.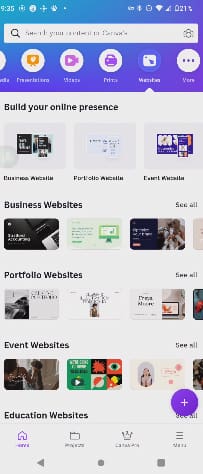 Canva Price
With Canva, you can create various types of graphic designs, including social media posts, resumes, videos, infographics, presentations, and booklets, completely free of charge. It's the same with Canva's new website builder – you can design and publish a website totally free of charge. However, Canva Pro, which is the paid version, offers you a wider range of tools and functionalities, such as copy-right free graphics, videos, fonts, and brand kits. Canva Pro only costs $55 per year for one person (at the time of writing this article).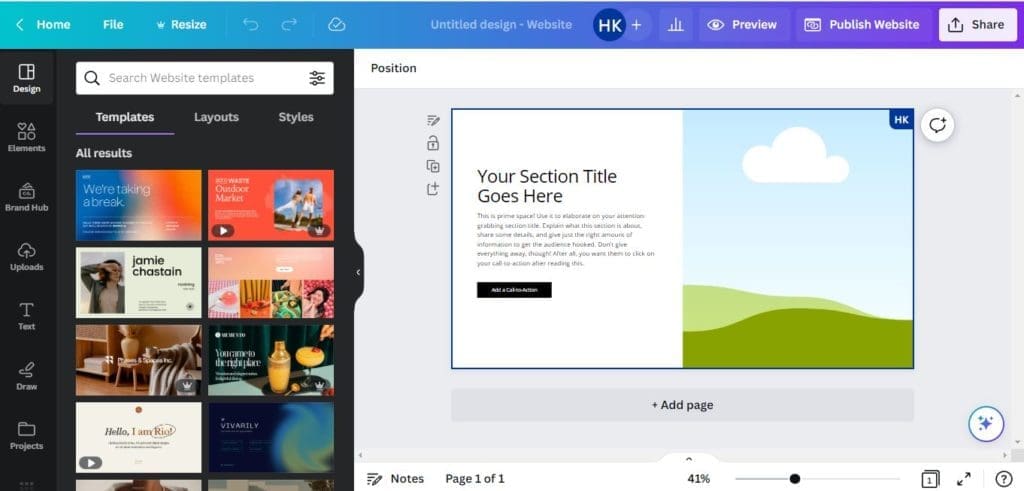 When creating your website, Canva gives you a free built-in domain. In fact, Canva free users can publish up to five live websites on the free tier. But the URL of the sites will have the extension my.canva.site, which doesn't look nice. You can customize the rest of the link and use domain shorteners or linked trees to deal with this issue.
If you have a Canva pro account, you can link an existing domain to your website or purchase a new domain through Canva. There is not much of a price difference between buying a domain through Canva and buying a domain through other domain registrars like NameSilo, Cloudflare registrar (recommended), or Porkbun.
Structure and Navigation of Canva Sites
Essentially, Canva websites are created by a series of slides/panels, which then become one page website. These websites have an automatic navigation feature that creates a simple menu bar at the top of your site. This menu bar directs visitors to different panels within the long scrolling page, which makes it easy to browse through your content.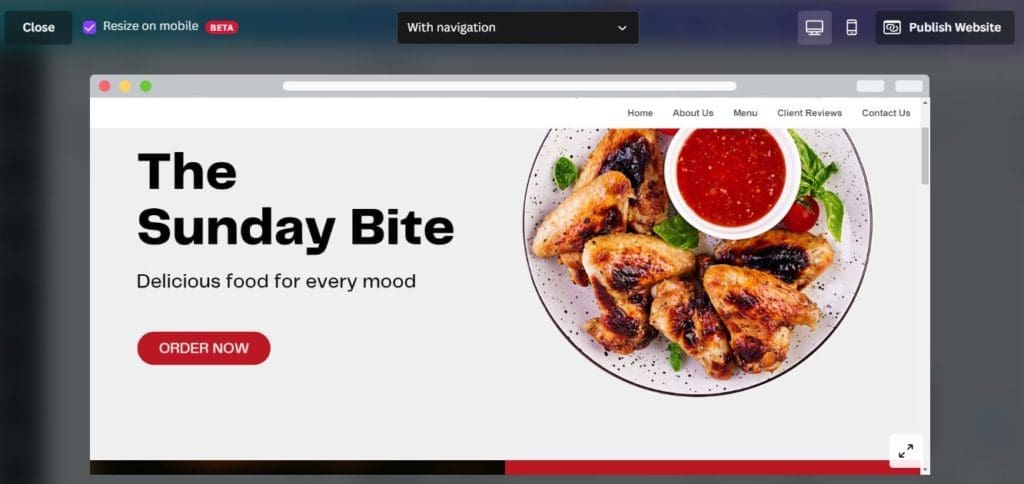 Since this menu bar is automatically created and formatted, it gives you limited options. To activate automatic navigation, you have to name each slide of the website individually. Canva then automatically generates the navigation links based on the names of individual slides. However, you can also choose not to name certain panels, which will remove them from the navigation bar. Additionally, you can choose not to use a navigation bar altogether.
However, it's not possible to add blogs or podcasts to your Canva site. You can only link external blogs or podcasts to your site by adding text links or buttons. So, Canva might not be the best choice for you if you want to create a blogging site.
Overall, the structure and navigation of Canva sites are ideal for simple websites with short pages, like portfolio sites, event sites, landing pages, or websites promoting a certain product or service.
Responsiveness of Websites Built with Canva
Canva promised that their website builder would enable us to create responsive websites that look great on any device, and to some extent, they have delivered on that promise. However, there are some significant limitations in this area, not because the platform lacks responsiveness but because designing complex layouts would require abandoning the pre-established pages or panels that Canva provides. Despite this, you can still achieve attractive designs using Canva's integrated suite of graphics, videos, and images. But, if you aim to create elaborate layouts with overlapping images or other unique features, it may have an impact on your website's responsiveness.
In essence, Canva's responsive AI makes assumptions or decisions based on your content regarding the layout of your website for mobile view. Currently, there are no custom or manual controls for mobile or tablet view during website building, but in most cases, it does a decent job of making it look good and functional. As you work with it, you'll learn tips and tricks on how to group objects to achieve your desired mobile view. However, the desktop view looks great, and if you use the established structures, it's easy to make a responsive website that looks good on mobile quickly. But, it is somewhat restrictive.
Achieving a visually appealing design for mobile can be a bit time-consuming since it involves some trial and error. You have to switch between views to check how your design looks on mobile. Nevertheless, Canva has simplified the process with a preview button that enables you to preview your website in desktop or mobile view with just a couple of clicks. So you can easily keep track of how your site looks as you build it.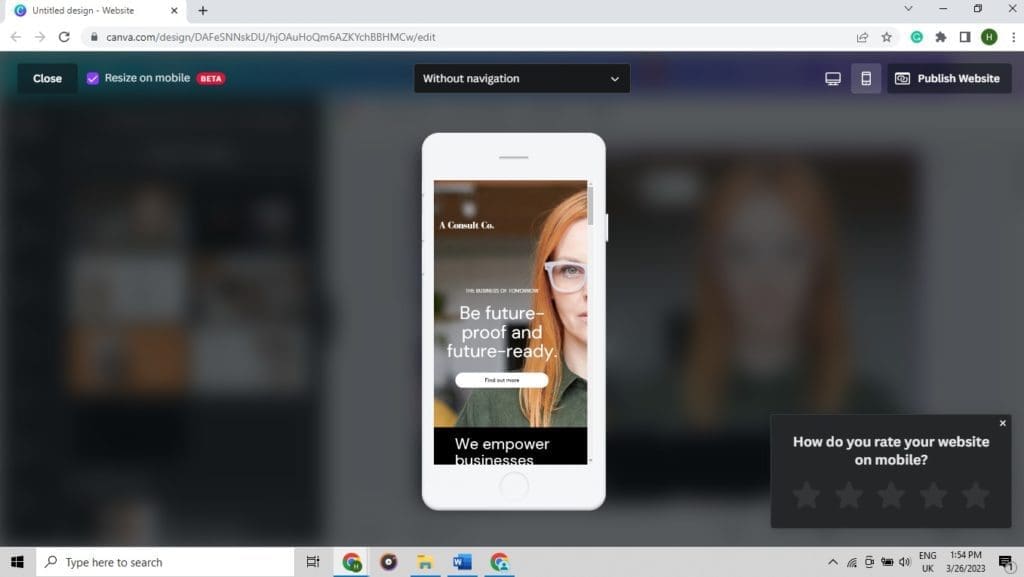 It's worth noting that Canva actively seeks feedback on the mobile view of your website, prompting it every time you preview your site on mobile. This shows a commitment to improving their platform and ensuring that designs created on their site are functional and effective on mobile devices. Hopefully, this feedback will lead to improvements in manual controls for mobile and tablet responsiveness, as it's becoming increasingly important to prioritize responsive design given the current ratio of mobile to desktop users.
Canva Website Design
As previously mentioned, Canva websites consist of a sequence of slides or panels that are merged to create a single, continuous website. Although you can alter the height of the panels to add some diversity, the website typically operates on an individual slide basis.
Canva offers a broad range of design resources, including graphics, animated gifs, fonts, color palettes, videos, and stock images, that are accessible on both free and premium accounts. This means that the potential for design options on Canva websites is virtually limitless.
If you have a Canva Pro account, one feature that can really enhance your website design is the ability to create brand kits. With Canva Pro, you can establish your brand's colors, fonts, and other design elements as part of your brand kit. This makes it easy to apply these elements consistently throughout your website with just a click of a button. By using Canva templates (pre-made site designs provided by Canva) and making them consistent with your brand kit, you can quickly and easily create a professional-looking website that is cohesive and visually appealing.
Canva offers a wide range of pre-built website templates that you can personalize with your own images and fonts. Despite launching in September 2022, the variety available is quite impressive. However, you may notice that the designs for each panel are consistent and not particularly creative due to the limitations of responsiveness mentioned earlier. Nevertheless, these general layouts can help you with a quick web build.
There's ability to embed other Canva designs into a webpage. This is a straightforward process that involves copying and pasting the design link into an iframe, allowing for the creation of slideshows or other interactive elements by combining various Canva designs. Another excellent feature is the video function, which allows users to access Canva's image library, upload their own videos, and even record themselves within the Canva platform. The responsive resizing is impressive, and the platform also enables overlaying frames or text graphics over videos, making it very intuitive and user-friendly.
One feature that Canva advertised for their websites was interactivity, but in reality, it may have been overhyped. The website design doesn't offer much interactivity beyond animated graphics, GIFs, and the ability to add hyperlinks to text, objects, or buttons. Hover states for buttons and other interactive elements cannot be customized. This means that buttons do not have any kind of animations or color changes when you hover over them, making it difficult to determine whether they are clickable or not. This can result in a frustrating user experience, especially if users are unsure about which elements on the page are interactive. However, since most users are familiar with standard link styles, sticking to a consistent design shouldn't pose a problem. Overall, the interactivity aspect of Canva websites is lacking, and this could be improved in the future.
Publishing & Getting Paid
Getting a website up and running on the internet using Canva website is incredibly easy. With one of Canva's free domains, you can build, design, and publish a website live on the internet within minutes. With just one click, you can also easily share the site you just published on all of your favorite social media platforms. This feature is particularly helpful for those looking to quickly promote their website and reach a wider audience.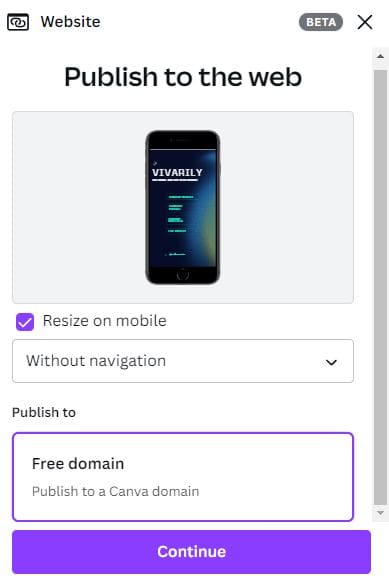 To make your Canva site's URL more presentable, you can use a link shortener or a redirect. If you have a Canva Pro account or Canva Teams account, you can also purchase a domain through Canva or link an existing domain, both of which are straightforward processes with step-by-step instructions. Anyone can do it!
While setting up a Canva website is easy, receiving payments requires a different approach as the platform lacks an e-commerce and checkout function. Hence, to sell anything through your Canva website, you need to direct customers to a third-party checkout. Though this may appear time-consuming, it offers flexibility in choosing your preferred checkout option – one that you're familiar with or one that's free, like PayPal, Stripe or Square. With numerous possibilities available, linking a button to the checkout page is all that's required.
SEO and Analytics
When it comes to SEO and analytics, Canva websites fall short in terms of the level of control and sophistication that more established website platforms offer. The SEO tools within Canva websites are quite basic, with limited options for optimizing your website's search engine ranking. Similarly, the analytics tools are not as comprehensive as what you might find with more advanced platforms, such as Google Analytics.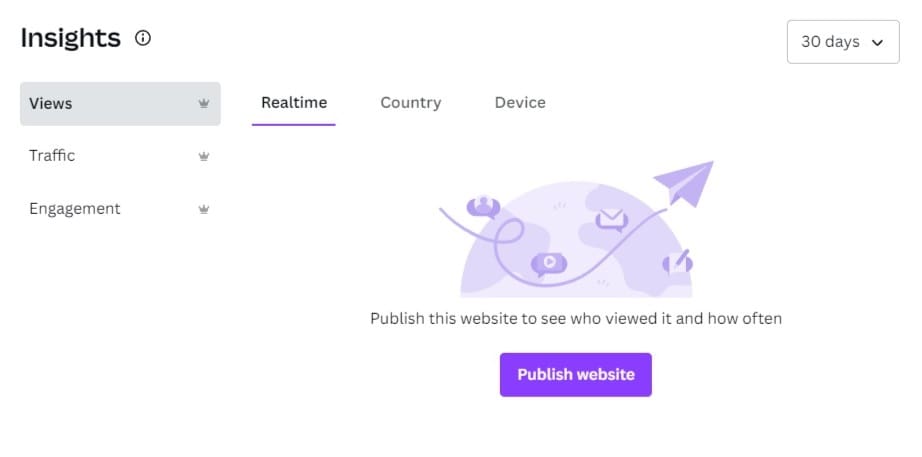 That said, Canva websites are primarily designed to be simple and straightforward, with a focus on creating visually stunning one-page websites. For this reason, the limited SEO and analytics tools may be sufficient for many users, especially those who are just starting out and don't require more advanced features.
Conclusion
So do Canva websites live up to their promise? How do they compare to other established website platforms, such as WordPress? In reality, Canva sites fall short as a competitor to established players in this market. It's mainly their lack of blogging functionality and control over responsive and mobile views that make it challenging for them to compete with more established website builders. However, despite these limitations, Canva's website builder has a lot of potential. Right now it's one of the best tools make quick one page web publications. The multipage option might be introduced down the line that will allow people to create full websites within the Canva platform. Unlike WordPress Gutenberg editor, Canva builder is intuitive and modern. Many existing Canva users would appreciate the ability to use their favourite graphic design app as a website builder too.
If you already have a Canva pro account, Canva websites can be a great way to design your website and get it published fast – all without having to learn a new page builder or seeking web hosts.