Beginner's Guide to Substack, a blogging alternative to WordPress
Substack is a fully hosted FREE platform that helps you set up a blog and email newsletter without any technical or coding knowledge. They make it easy for any content creator to publish their work, build an audience and then monetize it with paid subscriptions. The best part? No ads, algorithms or censorship will get in your way. Substack prides itself on being a neutral platform that supports free speech. It also does not have ad-driven feeds pushing content based on virality and outrage, operating in defiance of the ad-driven attention economy.
Argue in good faith instead of dropping bombs for retweets
You get to have a direct relationship with your readers and complete control over your creative work. On Substack, the audience is yours as a creator. It's not like Facebook or other social media channels, where your profile and audience are essentially their property. And unlike Medium, where the audience belongs to them, on Substack, your audience belongs to you. It's a direct connection between you and your readers.
In short, think of Substack as a combination of a blog and a newsletter. It's like having your own personal platform where you can write blog-like posts, send them out as emails to your subscribers and get paid with built in membership features. It's simple, personal, and gives you more flexibility compared to other hosted blogging platforms out there. Getting started on Substack is free. Should you decide to enable paid subscriptions, Substack will retain a 10% share of the revenues to cover operational costs such as development and customer support. Let's now learn how to create your own Substack Newsletter.
* Check out their resources for writers and Substack News Page.
How to use Substack
To get started, you need to visit the substack website. First, you need to sign up by clicking the "Start Writing" button at the top right corner of the page.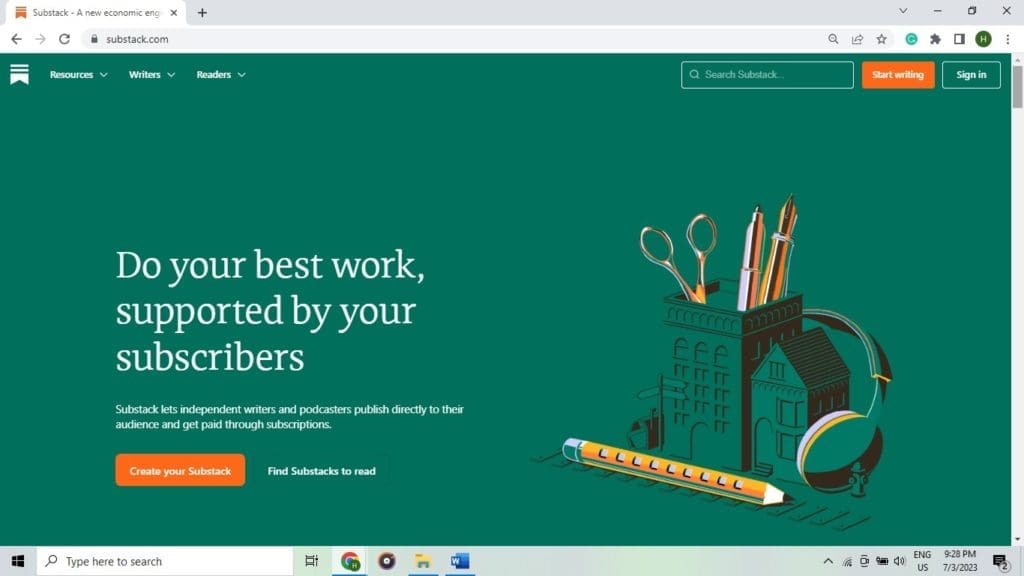 This will redirect you to a page where you need to enter your account email and click "Agree and Continue."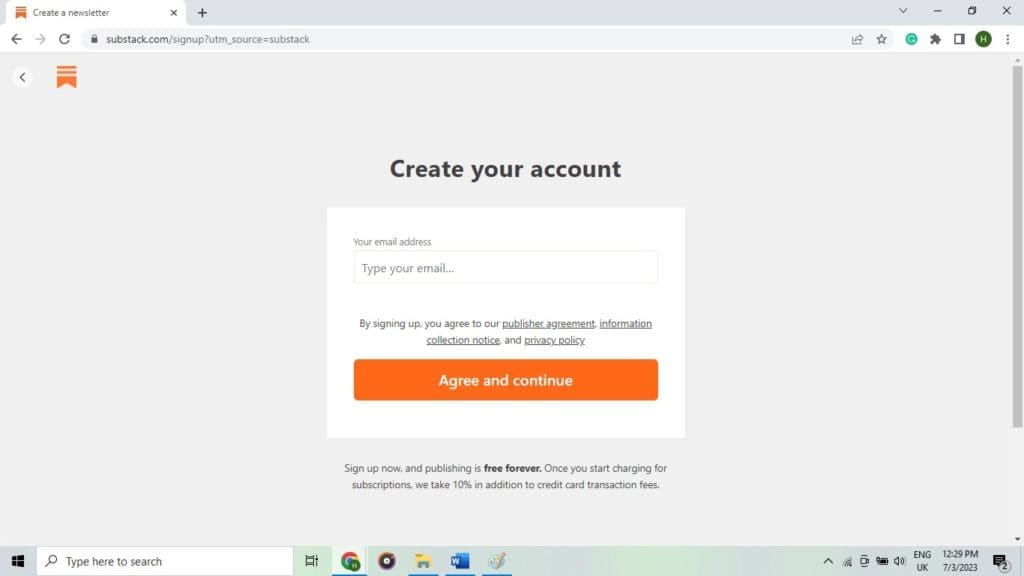 Then enter your name and your bio here to complete the profile creation process.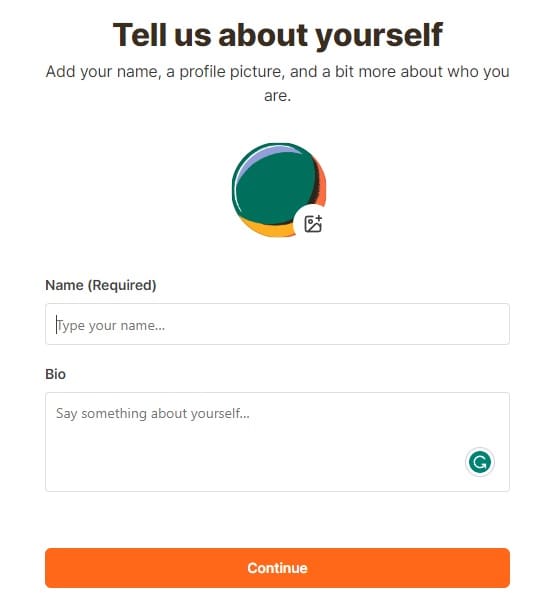 Next, provide a publication URL/Substack webpage where the public can access your newsletter archive and posts.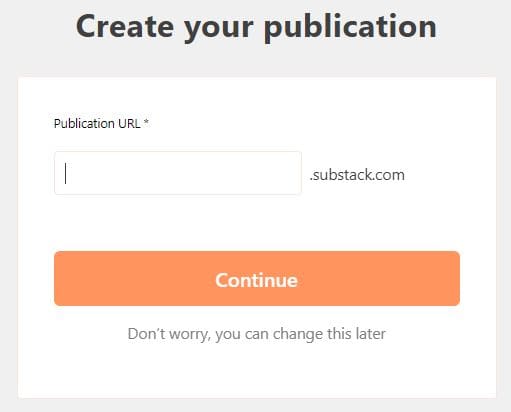 Then, you can import your existing mailing list by selecting the CSV file if you have one.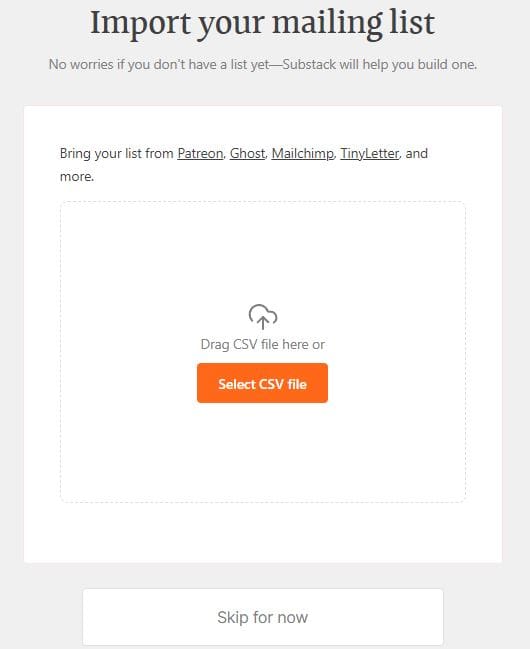 You can also add subscribers by entering their email addresses.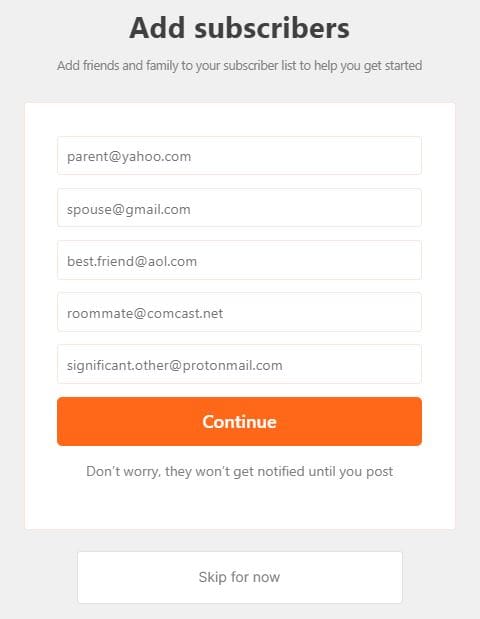 Next, select the topic that you are interested in. Once you're done, click "Continue," and it will redirect you to a page where you can select writers you might enjoy.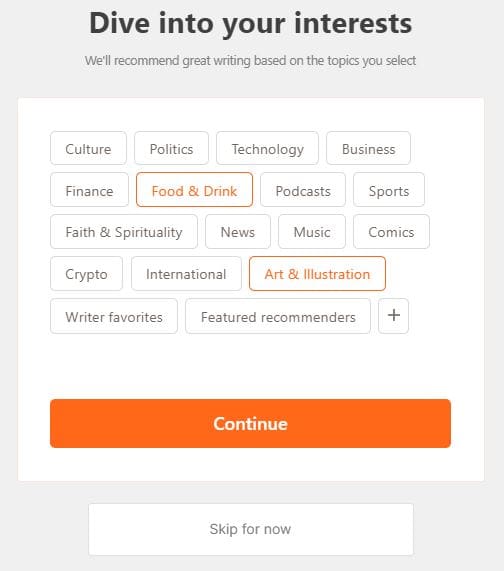 Now you have successfully set up your new Substack account. Click "Let's do this" to get started with your publications.
Following image shows your account dashboard once you finish the sign up and onboarding process. Before we proceed with the creation of a newsletter publication, let's first take a look inside Substack dashboard.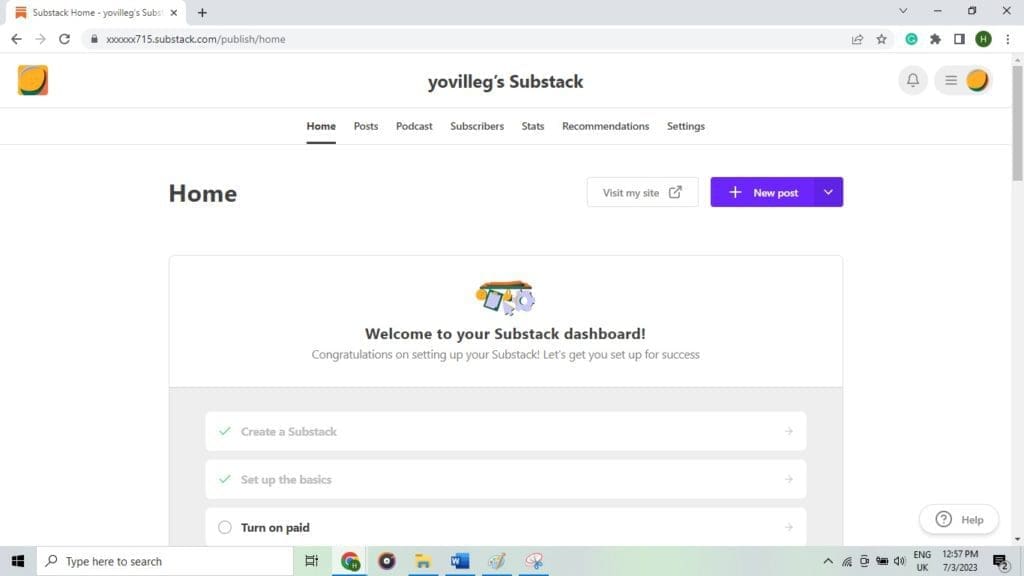 At the top, there are different tabs. The above screenshot shows the "Posts" tab. There is also a "podcast tab" where you can create and operate your own podcast. Next is the "Subscribers" tab, where you can monitor your subscribers. You also have stats page where you can check performance and analytics relating to your publications. Additionally, you have recommendations to explore.
Now, let's go back to the "Posts" tab and create a new newsletter publication.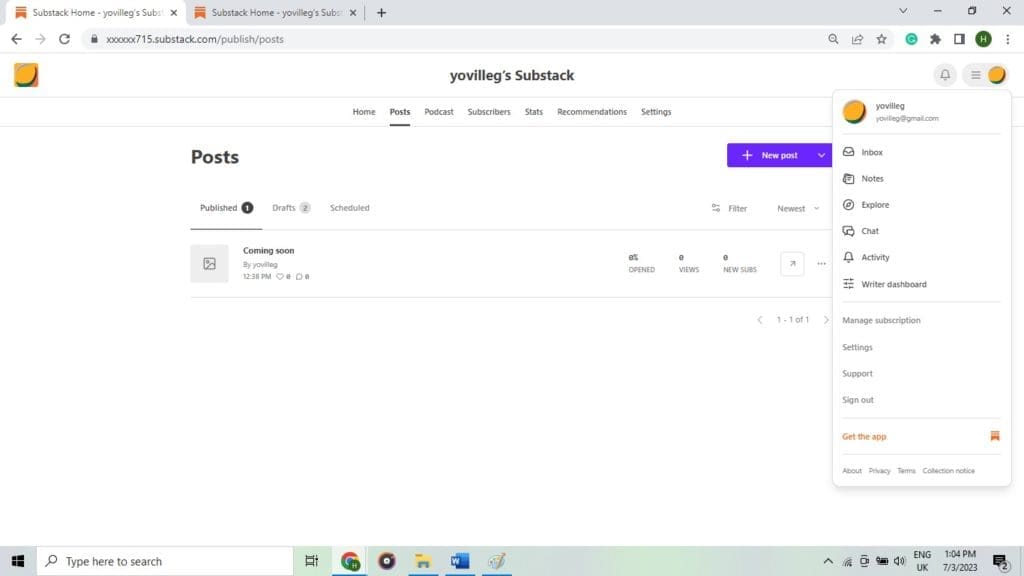 Before we start writing our newsletter publication, we need to set up the email header and footer. To do so, you just need to click "Edit email header and footer." You can also add a banner image that will show at the top. The recommended size is 1100 pixels by 220 pixels, and it should be a PNG file. There's also an option to add a header for all your newsletter posts, such as your company name and tagline.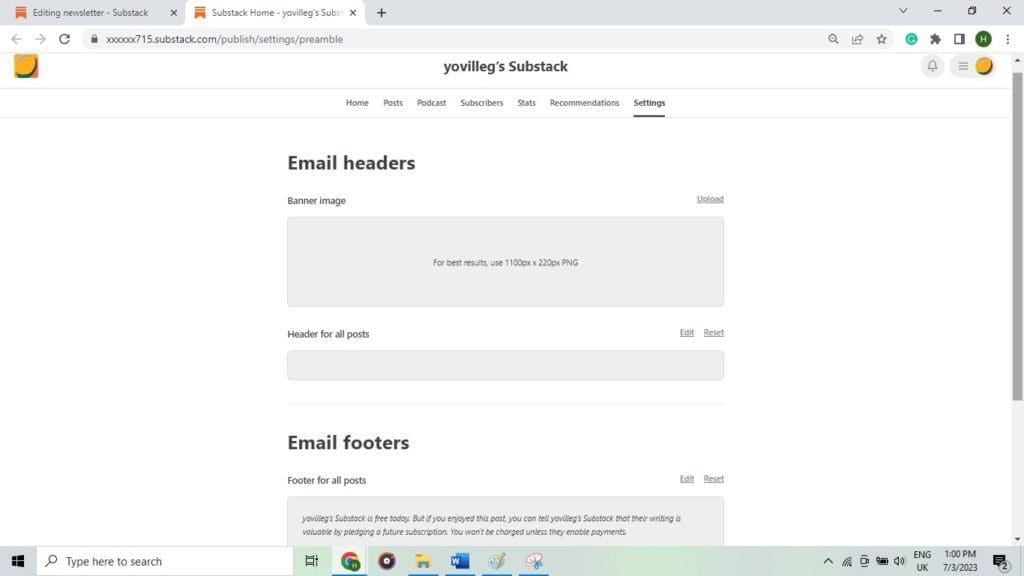 After that, you can send a test email to your own email account to see if you like the look of the newsletter design. Once you're happy with the design, you can start writing the newsletter. Text edits are done using full WYSIWYG editor interface so you don't have to touch a line of code. As you start writing, you can change the Header styles, make the text bold, italic, or strikethrough. You can highlight text, add links, and insert images, audio, or code. Additionally, you can add buttons like "Subscribe now" or "Share this post."
Once you're done creating the newsletter publication, you can preview it post by clicking on "Preview" button. You can see how it looks in mobile or desktop view. When everything looks good, click "Test," and you'll get a secret draft link to share with trusted individuals for feedback before publishing.
You can determine whether your newsletter post is for everyone or only for paid subscribers. It is suggested to make it available to everyone initially in order to build your audience and gain subscribers. Additionally, you can enable comments and create a social preview if your Twitter account is connected. Finally, click "Send to Everyone" to publish your newsletter.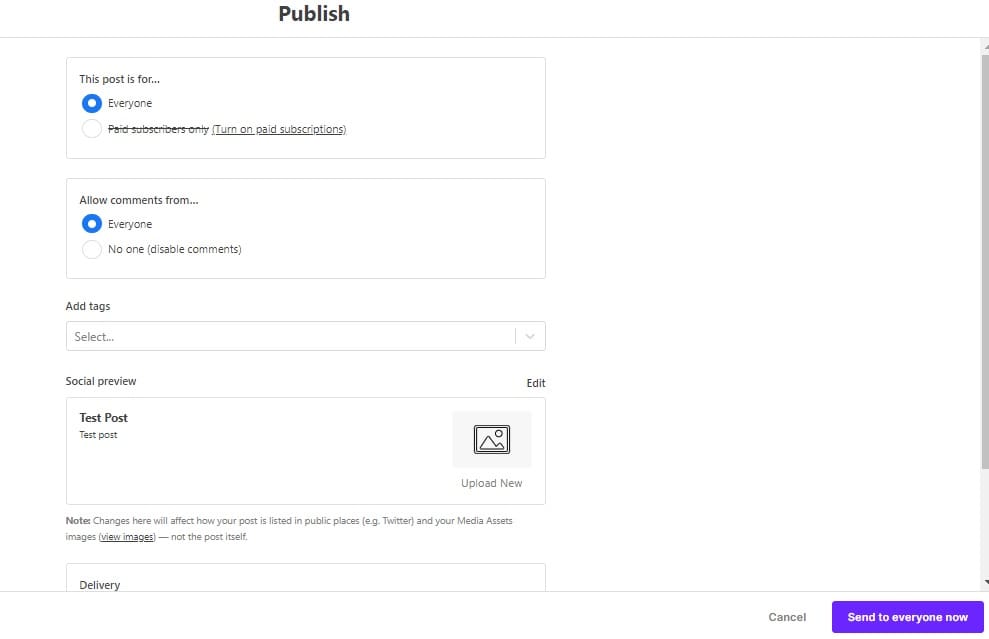 Substack Sections provide a mechanism for subcategorizing your articles, essays or updates, making it easier for your readers to browse content that interests them most. It enables you to efficiently structure, organize and categorize your work. These appear as menu items in your Substack webpage.

Substack FAQ
How to Start a Podcast on Substack?
Once you are logged into your Substack account, navigate to the Podcast tab.
Choose the option to "Start a new podcast."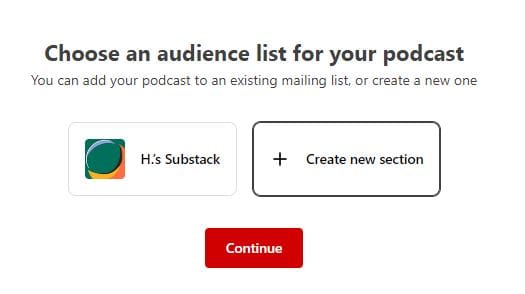 Provide the necessary details about your podcast, including:
Title: Ensure it is clear and descriptive for easy searchability on Substack and other podcast platforms.
Description: Give a concise overview of what your podcast is about.
Categories: Select relevant categories that will help platforms like Apple Podcasts sort and recommend your show.
Podcast artwork: Upload a square image with a minimum width of 1400px.
Podcast tab: Tick this box if you want to add a podcast tab to your publication.
Click "Done," and your podcast will be set up and ready to go.
How to create a New Podcast Episode and Share it with Subscribers?
You have the option to upload your own audio file or record audio directly on your publication.
On your Posts page, choose "Episode" or "New episode" within the Podcast tab.
In the draft episode post, click "Click to add audio," and a new dashboard will appear on the right. You can either upload an audio file or select "Record" to create audio content directly. Note: Supported file types include mp3, mp4, aac, aiff, x-aiff, amr, flac, ogg, wav, and x-wav.
If the podcast episode is intended for paid subscribers only, you can add a free preview for non-subscribers. Simply select the checkbox next to "Add free version" and upload or record a snippet.
Click "Done" and add relevant text to your post. This text will be sent to your subscribers in the newsletter and will appear as "Episode details" on the web post.
Select "Continue." Here, you can choose the target audience for your post and provide a description of your podcast episode in the "Social Preview" section.
Decide on the delivery method: Check the box to send the post as a newsletter and to the Substack app, or uncheck the box to publish it as a web post.
How to Make Money on Substack?
As a content creator, earning income on Substack follows a similar model to other subscription platforms, such as Patreon or Locals. Here's how it works: Your followers have the option to subscribe to your Substack for a monthly fee that you set, and you have full control over the way you deliver content.
Your publications on Substack can be delivered directly to subscribers via email, or they can visit your Substack page to access and read all the publications. We recommend offering a combination of free and paid content so people can evaluate your work before committing to a subscription.
What is Substack Notes
Substack Notes provides a platform for writers to share short-form posts similar to Twitter, fostering an exchange of ideas among fellow writers and readers. With Notes, writers can easily share various content types like posts, links, images, quotes, and comments with their subscribers and the wider Substack community.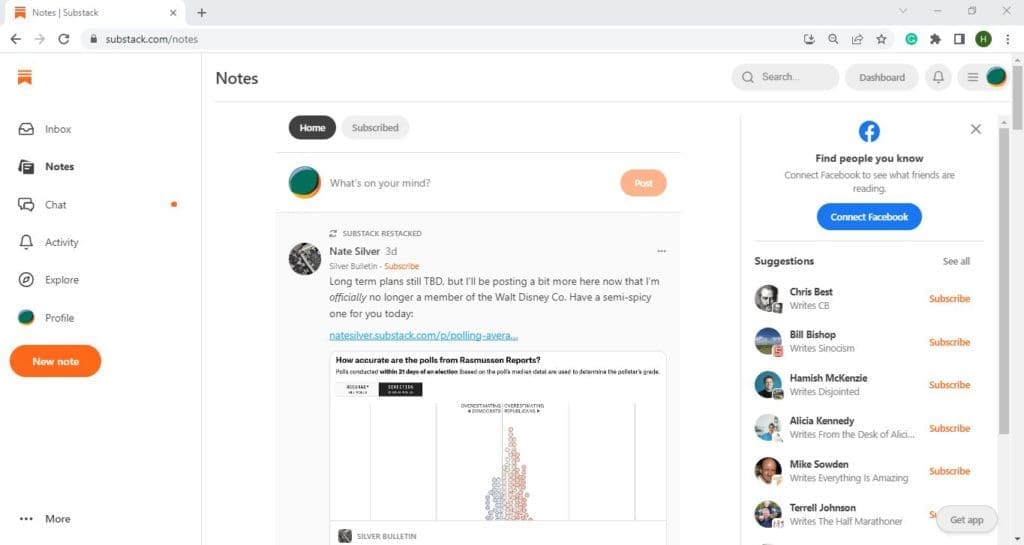 Within the Notes space, you'll find three tabs: Home, Subscribed, and My Subscribers. The Home view presents short-form content from Substacks you subscribe to, as well as content from the broader Substack network. The Subscribed view showcases short-form content from a narrower range of sources tied to your specific subscriptions. Restacks, which are shared content and replies related to notes from the people you follow. Lastly, the My Subscribers view displays notes from readers who subscribe to your publication.
How to Import Emails in Substack
Access your Substack Dashboard.
Go to the Subscribers section and choose "Upload a CSV."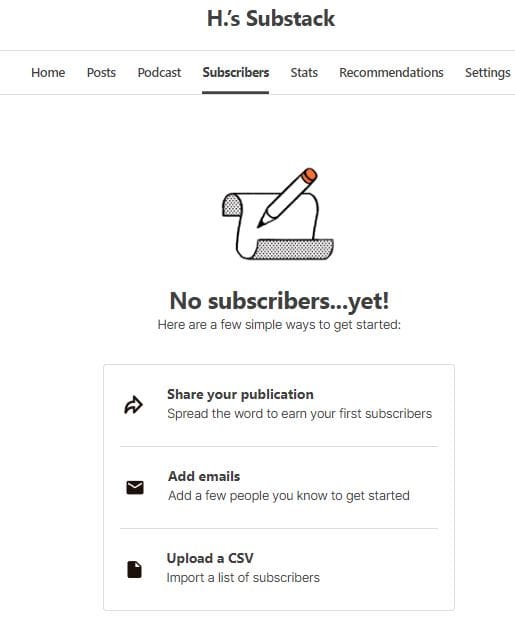 Scroll down to the bottom of the page and import your mailing list. You can either drag and drop the file or click "browse" to locate and upload a CSV or TXT file containing the email addresses.
After uploading the .csv file, ensure that these subscribers have willingly opted in to receive emails. If you have enabled payments, select their subscription type. If you have paid subscribers and want to ensure they maintain access during your transition to Substack, consider offering them a trial period. Note: After the trial ends, they will be prompted to enter their payment information into Substack to continue receiving your newsletter.
Click "Import" and your mailing list will begin importing to your account. The duration will depend on the size of your list but may take a few minutes.
Refresh the page to view the count of successfully added emails and any skipped entries.
10 Most Popular Substack Newsletters Worth Reading
Here's a list of the top 10 Substack Newsletters as of this writing. Use these as inspiration to begin your Substack journey.
1. Letters from an American by Heather Cox Richardson
Heather Cox Richardson, an American history professor at Boston College, provides a chronicle of today's political landscape by exploring the Constitution, laws, economy, and social customs. This newsletter offers an in-depth understanding of U.S. politics and history.
2. Racket News by Matt Taibbi
Matt Taibbi is a prominent American author and journalist. He has made many commentaries which are often satirical, but always incisive. Awards have been awarded to him for several works of investigative journalism such as the National Magazine Award for Commentary. Twitter Files is one of his recent investigative work that gained worldwide attention.
3. The Free Press by Bari Weiss
Bari Weiss, a journalist and author of "How to Fight Anti-Semitism," caters to those feeling disillusioned with the current political climate. Common Sense addresses the challenges of science being influenced by politics, the triumph of identity over ideas, erasure of art and history, and the dangers of expressing obvious truths.
4. Noahpinion by Noah Smith
Noah Smith, a former Bloomberg Opinion columnist and finance professor, delves into economics and culture from a perspective that resonates with those who do not align with extreme ideologies. Noahpinion covers a wide range of topics while providing insights into the changing world.
Pulitzer Prize-winning investigative journalist Glenn Greenwald sheds light on governmental injustices worldwide, focusing on the U.S. surveillance state. Outside Voices explores the impact of surveillance and government actions on personal freedoms and rights. He is the journalist who helped break the story of NSA whistleblower Edward Snowden.
6. Solano NewsNet by Matthew Keys
Run by a network of volunteers residing in Solano County, Solano NewsNet offers independent and timely breaking news coverage specific to the region. It serves as a valuable resource for staying informed about local events and developments.
7. Huddle Up by Joseph Pompliano
Huddle Up provides a unique perspective on the business and financial aspects of the sports industry. Written by Joseph Pompliano, a writer with experience in sports agency and finance, this newsletter attracts executives, athletes, investors, and sports enthusiasts alike.
8. ParentData by Emily Oster
Emily Oster, who is an economics professor and parenting author, delivers a twice-weekly newsletter that offers data-driven insights on pregnancy, parenting, and the COVID-19 pandemic. ParentData provides valuable decision-making tools and statistics for parents seeking evidence-based information.
9. Astral Codex Ten by Scott Alexander
Scott Alexander, a doctor working on new models for mental health care, explores a wide range of topics related to reasoning, science, morality, and philosophy. Astral Codex Ten delves into ancient concepts and their modern applications, appealing to those seeking intellectual exploration.
10. The Popehat Report by Ken White
Ken White is an attorney specializing in criminal defense and civil litigation who offers insightful discussions on criminal justice, free speech issues, and the discrepancy between legal ideals and realities. The Popehat Report aims to make legal topics accessible and engaging for both legal professionals and non-lawyers.
Conclusion
In short, Substack offers a unique opportunity for writers, bloggers, and content creators to explore a new avenue for connecting with their audience. Whether you're an avid reader looking for fresh perspectives or a budding writer seeking to share your ideas, Substack provides a platform that encourages direct engagement and creative freedom. By immersing yourself in Substack's vibrant community of newsletters, you can discover a wealth of insightful and thought-provoking content from talented creators across various fields.