A Comprehensive Guide to Using Threads App by Instagram
Twitter revolutionized digital communication with its microblogging concept that initially allowed people to share their thoughts in only 140 characters, a limit later increased to 280. Twitter quickly gained popularity due to its unique real-time information sharing capability. It played an instrumental role in various global events such as the Arab Spring of 2010 and has become a prominent platform for news updates, celebrity engagement, social campaigns, and brand marketing. Over the years, it has introduced features such as hashtags for categorizing posts and direct messaging. As of now, it's one of the biggest social media platforms globally.
In recent years, Twitter has faced significant criticism for censoring voices that oppose ruling regime in the US and favoring a particular political ideology. The Twitter Files is a series of exposés by investigative journalist Matt Taibbi. It explores how Twitter and US government agencies collude to control narratives and shape public opinion on political matters. Due to its poor business model, the company has not made a profit during its entire lifespan. Elon Musk aims to transform Twitter into a "digital town square" based on the principles of free speech, and to develop it into a profitable venture that can stand on its own.
Twitter now is just an opportunity for very left-wing people to express increasingly left-wing views to other left-wing people

Jeremy Clarkson in 2021 about Twitter's bias
Since Elon Musk's acquisition of Twitter in October 2022, the platform has undergone significant changes that have left some of its more liberal minded user base unsettled. The causes for this discontent include: Twitter Blue program that required users to pay for some of the features that were previously available for free, tweet reading limits and sign-in requirements imposed to curb the third-party data scraping issue, and changes to Twitter's algorithm have altered the way some users consume content on the platform.
Some users have chosen to leave Twitter permanently due to these recent changes. Many alternatives to Twitter have emerged recently, seeking to capitalize on this exodus. Threads by Meta, the parent company of Instagram, Facebook, and WhatsApp, is the newest player to the social media market. This new conversation-based app has quickly gained traction and is predicted to pose a serious threat to Twitter's dominance.
UPDATES:
What is Threads by Instagram?
On July 5, Meta made a significant impact in the social media landscape by introducing Threads. This new app closely resembles Twitter in its format and focuses on facilitating conversations among users. While Threads functions as a standalone platform, it is closely integrated with Instagram, requiring users to have an Instagram account to sign up. In addition to sharing concise text snippets, Threads allows users to share photos and videos up to five minutes long, creating a more dynamic communication experience. Impressively, within just a few hours of its launch, Threads attracted a user base of 10 million, indicating its strong initial appeal. The app is currently available in over 100 countries, with plans for further expansion, although it is not accessible in the European Union as of this writing.
What are the Key Features of Threads by Instagram?
Real-Time Updates and Public Conversations: Threads offers a separate space for real-time updates and public conversations, providing a distinct platform for engaging with others.
Compatibility with Interoperable Social Networks: The app aims to be compatible with open, interoperable social networks, contributing to shaping the future of the internet.
Default Private Profiles for Users Under 16/18: Users under the age of 16 (or under 18 in certain countries) are defaulted into a private profile upon joining Threads, prioritizing privacy and safety.
Follow Accounts of Interest: Users have the option to follow the same accounts they do on Instagram, connecting with individuals who share similar interests.
Accessibility Features: Threads has the same core accessibility features available on Instagram, including screen reader support and AI-generated image descriptions, ensuring inclusivity for all users.
Personalized Feed: The feed on Threads consists of threads posted by followed accounts and recommended content from new creators, allowing users to discover fresh perspectives.
Versatile Post Content: Posts on Threads can be up to 500 characters long and can include links, photos, and videos of up to 5 minutes in length, providing flexibility for expression.
Seamless Sharing: Users can easily share Threads posts to their Instagram stories or share them as links on other platforms, expanding the reach of their content.
Positive and Productive Conversations: Threads includes tools to enable positive and productive conversations, offering control over who can mention or reply to a user's threads. Users can also filter out replies containing specific words using hidden words.
Account Management: Users have the ability to unfollow, block, restrict, or report profiles within Threads, with the app automatically syncing with blocked accounts from Instagram.
Safety and Community Guidelines: Instagram's Community Guidelines are enforced on Threads to ensure a safe and respectful environment for users and to promote responsible content and interactions.
Future Compatibility with ActivityPub: Future plans of Meta include making Threads compatible with ActivityPub, an open social networking protocol established by the World Wide Web Consortium (W3C), enhancing the app's interoperability with other platforms.
How to Sign Up for Threads?
Before you begin, keep in mind that you can only sign up for Threads if you have an Instagram account. If you don't have Instagram, download and install it from Play Store or App store and sign up for an account. If you have the main Instagram app installed on your phone then here are the steps to get started with Threads:
1. Go to the main menu of Instagram and click on "Threads".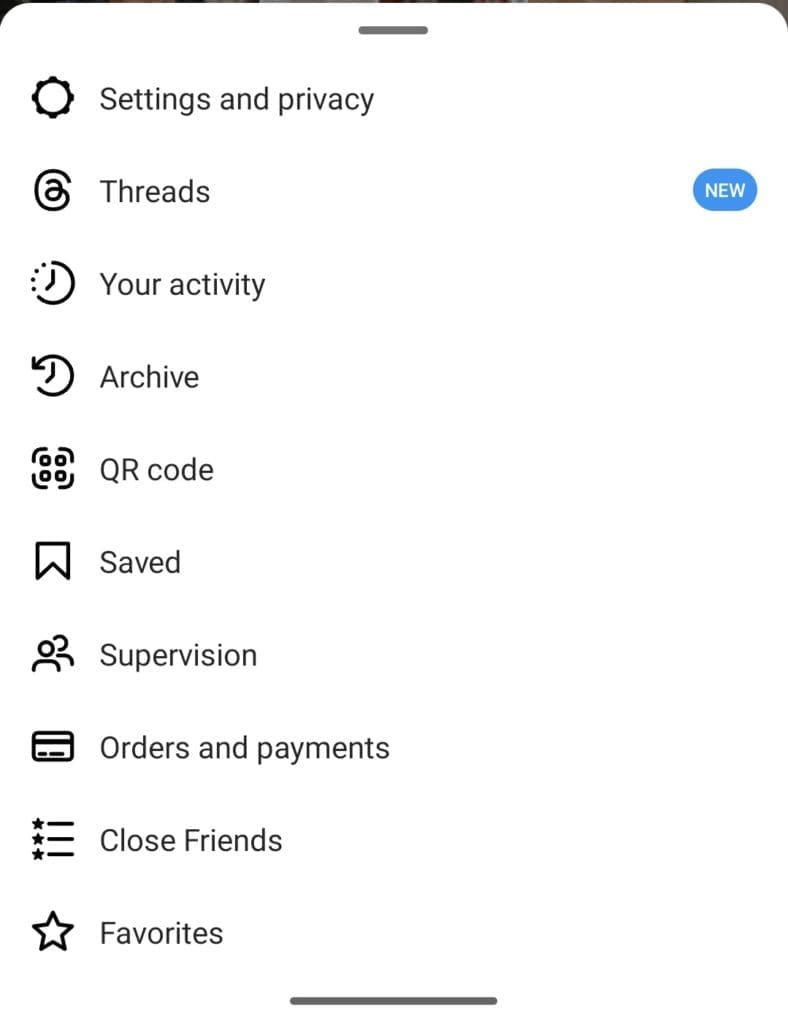 2. Now, click on "Get Threads".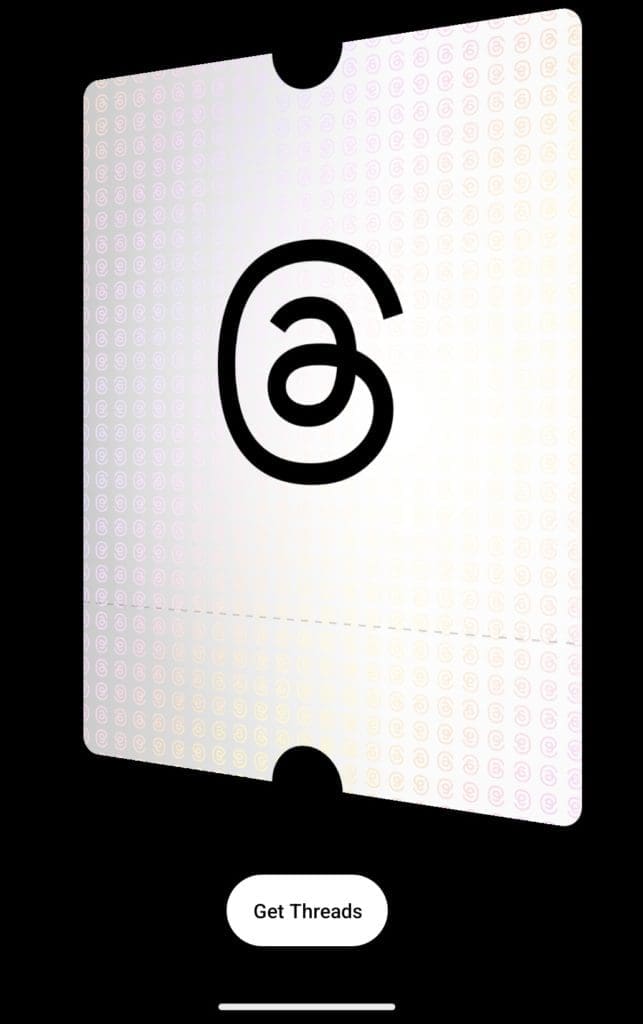 3. You will be automatically directed to "Threads" app on Play Store/App Store.
4. Tap on the "Install" button to begin downloading and installing the app.
5. Once the installation is complete, launch the app.
6. On the login screen, you will see an option to "Log in with Instagram".
Threads will automatically detect the active Instagram account on your phone and display the account name in the designated box. To sign up and log in to Threads using the displayed account, simply click on the account name.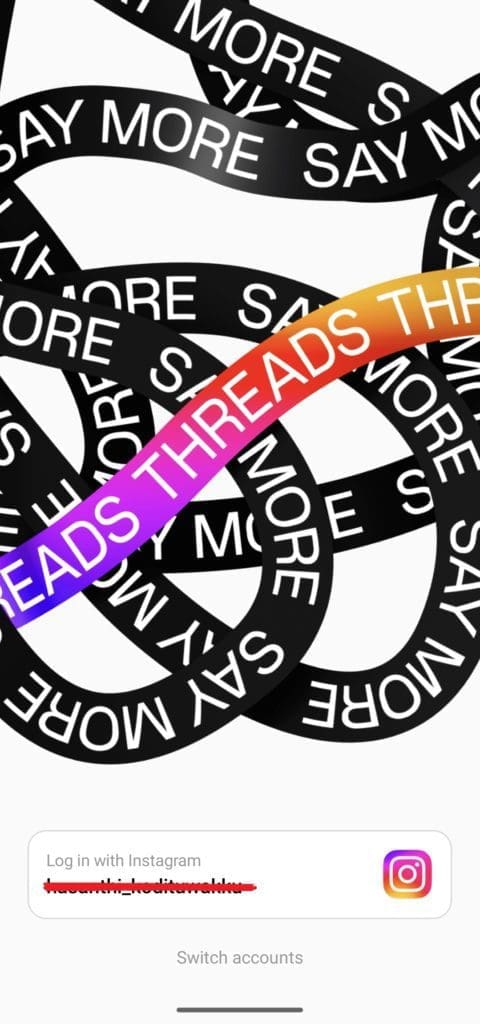 7. If you prefer to use a different Instagram account, press the "Switch accounts" button.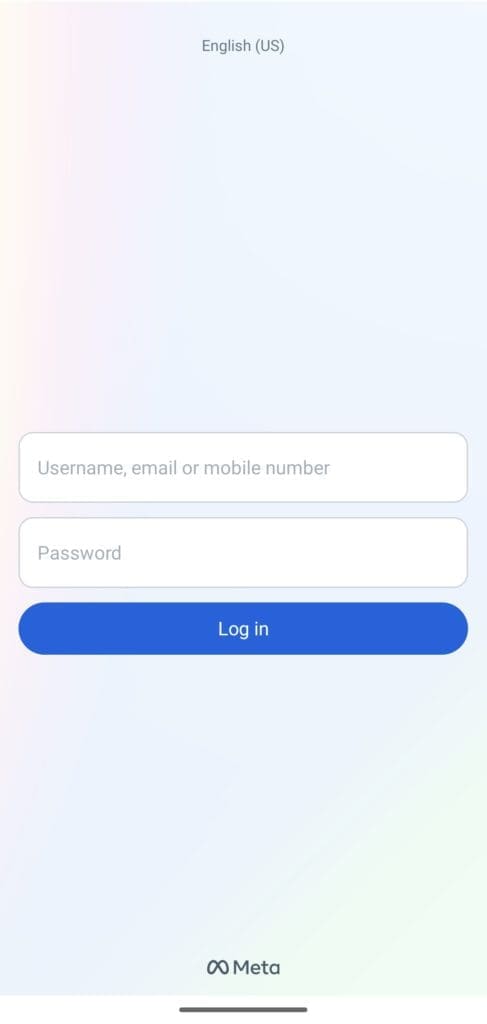 8. After logging in to Threads, you will be prompted to set up your profile name, bio, and links.
9. If you wish to use the same profile information as your Instagram account, you can select the "Import from Instagram" button. You can always update your profile information later.
10. Choose whether you want to keep your Threads account private or public, then click on the "Continue" button.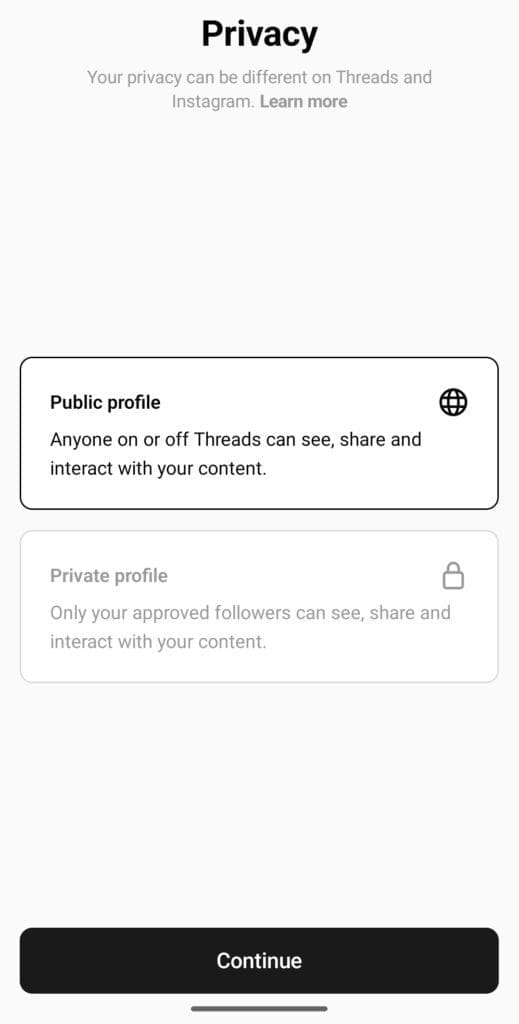 11. The next step is to select accounts to follow from your Instagram profile. You can manually choose the accounts you want to follow on Threads or select the "Follow all" button to follow all your Instagram friends on Threads.
12. Finally, click on the "Join Threads" button, and you're all set! Congratulations, you have successfully signed up for Threads.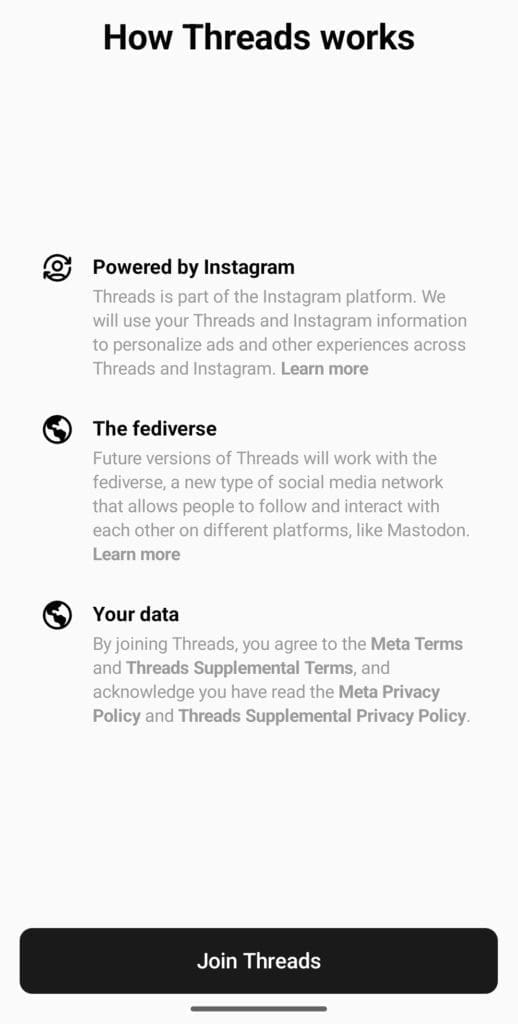 How to Create a Post on Threads
To create a post on Threads, simply tap on the Draft icon located at the bottom center of the app screen. From there, you can start typing your message.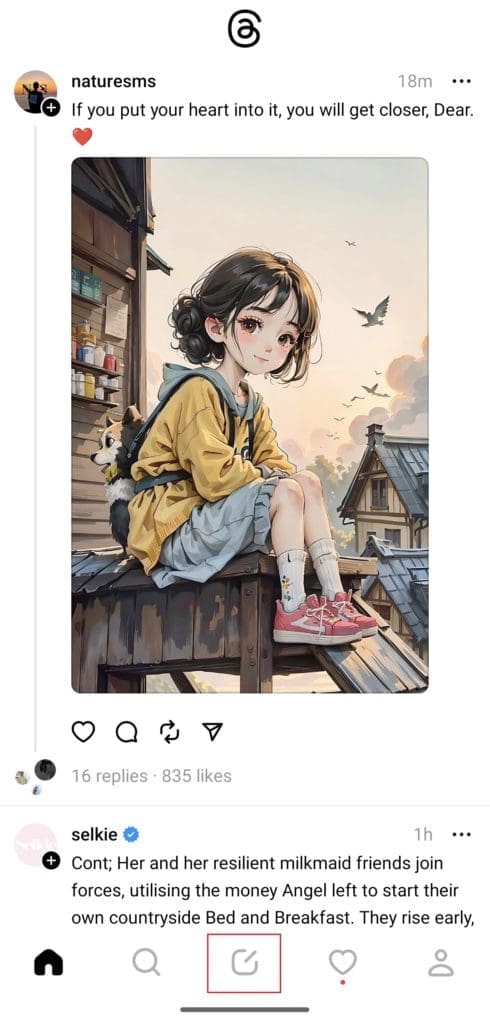 If you wish to include images in your post, tap on the paper clip icon and grant Threads access to your Gallery. This will allow you to select one or multiple images from your Gallery that you want to include in your post. Once you've made your selection, press the Done button.
Next, you have the option to choose who can reply to your post on Threads. By tapping on the "Anyone can reply" option, you can select from three choices: "Anyone," "Profiles you follow," or "Mentioned only." This allows you to control who can interact with your post.
Finally, when you are ready, click on the Post button to send out your message.
Threads FAQ
1. How can I send a private message on Threads?
As of this writing, the Threads app does not support private message sending. However, this feature is expected to be added in the future.
2. How can I post a story on Threads?
To share a story on Threads, open the app and tap the "New Story" button. From there, you can capture a video or take a photo and add a caption before posting it.
3. How can I add friends on Threads?
You can add friends to Threads by locating them in your Instagram contacts or by manually entering their usernames.
4. How can I set my Threads account to private?
To ensure privacy on your Threads account, follow these steps.
Open the Threads app and tap on your profile picture located in the bottom left corner.
From there, tap on Settings and toggle the Private Profile switch to the On position.
5. How do I delete my Threads account?
As of this writing, you cannot delete your Threads account without deleting your Instagram account. But you can deactivate your Threads account. To do this, access the Threads app and tap on your profile picture situated in the bottom left corner. Then, select Settings and tap on Deactivate Account. You will be prompted to enter your password, and once done, tap on Deactivate to complete the process.
6. Is Threads available on all devices?
Threads is currently accessible on both iOS and Android devices.
7. Can I use Threads without having an Instagram account?
As we mentioned above, you cannot use Threads without an Instagram account.
8. Can I use Threads on Desktop?
As of this writing, Threads is exclusively available as a mobile app and does not have a dedicated web or desktop version. Although individual threads can be viewed on desktop through shared links, the functionality to post or engage with the app is not supported. However, the Head of Instagram, Adam Mosseri, has acknowledged user requests for a web or desktop version and mentioned that they are working on it. This suggests that in the future, there may be expanded accessibility options for Threads beyond mobile devices.
9. What are the Drawbacks of Threads app?
Deleting your Threads account data requires deleting your connected Instagram account as well.
Some users don't like that they have to link their Instagram account (which is often linked to their Facebook) to use Threads. They want to keep their real-life connections and online presence separate or maintain different identities, and they feel that linking their Threads account with Instagram compromises that.
Threads collects a wide range of personal information from Instagram, including login details, account ID, name, username, profile information (picture, bio, links), followers, followed accounts, age, and information related to intellectual property violations and adherence to Instagram's guidelines.
Threads is perceived as a basic app with limited features, which may not meet the expectations of users seeking a more feature-rich and functional social media platform.
Threads does not currently have a website version and is only available on Android and iOS devices.
Twitter Vs Threads
Although Threads is a similar social media platform to Twitter, there are many differences between the two. Here are some of the most noticeable differences between Threads and Twitter.
| Feature | Threads | Twitter |
| --- | --- | --- |
| Character Limit | Threads has a character limit of 500, allowing for longer posts. | Twitter has a character limit of 280, requiring concise messages. |
| Account Creation | To create a Threads account, you need an Instagram account. | Twitter allows direct sign-up without any prerequisite. |
| Trending Topics | Threads currently lacks a dedicated section for trending topics. | Twitter features a "Trending" section to explore popular topics. |
| Following List | Threads displays the "following" list within the "Followers" tab. | Twitter has a separate tab for viewing the accounts you follow. |
| User Experience | Threads offers a refreshing and interesting interface, currently ad-free. | Twitter provides a clean interface but displays ads on pages. |
| Account Deletion | Deleting a Threads account requires deleting the associated Instagram account. | Twitter allows easy deactivation or deletion of the account. |
| Retweets/Reposts | Threads allows reposting with or without a quote. | Twitter enables retweeting with or without a quote. |
| Username Rights | Threads links the username to the associated Instagram account, requiring changes to both. | Twitter allows independent username changes without such restrictions. |
| Security and Privacy | Threads offers a "hidden words" feature to hide comments/replies containing specific words. | Twitter's mute feature applies only to tweets, not comments or replies. |
| Scope of Search | Threads provides limited search capabilities, allowing search for accounts only. | Twitter offers advanced search for accounts, hashtags, and tweets. |
| Video Limit | Threads permits video uploads of up to 5 minutes in length. | Twitter limits video uploads to 2 minutes and 20 seconds. |
| Blue Badge | Threads allows carrying over an Instagram blue badge for verified users. | Twitter requires a separate verification process for a blue badge. |
| Post Drafting | Threads currently lacks a draft feature for saving posts in progress. | Twitter has a draft feature for saving posts before publishing. |
| Availability | Threads is accessible only on mobile devices such as smartphones and tablets. | Twitter is available on various devices, including laptops and computers. |
| Messaging | Threads does not currently have a direct messaging feature. | Twitter offers a direct messaging feature for private conversations. |
These differences highlight the unique qualities and functionalities of Threads and Twitter. While both platforms offer distinct user experiences, it's important to consider these differences when choosing a social media platform that aligns with your preferences and needs.
Conclusion
In conclusion, Threads by Instagram has quickly gained popularity as a conversation-based app, presenting strong competition to platforms like Twitter. With its unique features, seamless integration with Instagram, and emphasis on positive conversations, Threads offers users a new and engaging social media experience. Although there are certain limitations and privacy concerns, the app's initial success and continuous development show its potential to shape the future of social networking. As the competition in the social media landscape continues to evolve, it will be interesting to see how Threads and similar platforms impact the way we connect and communicate online.